SentinelOne: Innovative Cybersecurity, High Valuation
Updated: Nov 8, 2021
SentinelOne (ticker symbol S)
Cybersecurity has been a very successful sector for Israeli tech for many years. It is not hard to see why. Much of the core talent in this area comes after years in unit 8200 the Israeli army unit that works in high tech. Much of their work lies in the protection of the Israeli covilian and military infrastructure from cyberattacks…and it isn't giving away any state secrets that it is used in cyberattacks on the Iranian nuclear and overall infrastructure…to give one example.
Among the most established Israeli firms on the US stock market are veteran companies in cybersecurity Checkpoint (CHKP) and Palo Alto networks (PANW). Clearly the importance of cybersecurity can be seen on an almost daily basis. And the growth of remote work and increased use of mobile devices makes cybersecurity increasingly important and complicated. Over 200 Israeli companies work in cybersecurity There is a long list of leading Israeli cybersecurity companies that have not gone public. Cybersecurity is the largest area for venture capital (VC) investment in Israel and it has been done at higher and higher valuations with many "multi unicorn" companies According to Crunchbase 20% of venture investment in Israel has gone to cyber $1.6 nln to date with large investments in fact 47 deals vs 67 in 2020. And that number does not include investments by corporations with Israeli roots and operations but headquareters outside the country.
The investment flows and valuations are so high that Gil Shwed head of Checkpoint one of the most established cybersecurity warns about a "bubble in this area. In contrast, Palo Alo Networks another veteran cybersecurity firm has been aggressively making acquisitions.
The growth and intensity of cyberattacks is clear and the environment is ever more challenging with the proliferation of devices tied to the internet and the growth of remote work. If one is accustomed to speaking of "total addressable market" the market for cybersecurity is virtually the entire world of public and private organizations
Who is SentinielOne ?
From Calcalist:
SentinelOne, which was established in 2013, began its way at Shuly Galili and Gil Ben-Artzi's UpWest Labs incubator and from there, the company continued to develop very quickly with Weingarten leading the company's business operations from Silicon Valley while CTO and co-founder, Almog Cohen, was responsible for the technological side. Cohen is no longer active in the company and its Israeliness remains mainly in its development culture. "We are a global company with 1,000 people scattered in many places in the world. There is plenty of Israeli character in the company and in its values ​​that we instill in everyone, but we are not an Israeli company. Israel is important to us, it is a home for 300 of our people and is where most of our innovation is still created. We have other R&D sites but Israel is a significant one with a significant workforce. We are a global company, some of our roots are in Israel and some in the U.S. We are the best of all worlds."
What does SentinelOne Do ?
SentinelOne builds threat detection called XDR: extended detection and response. Unlike earlier generation security service that monitored malware on devices, this approach monitors and analyzes endpoints as well as web/email gateways, web application firewalls,cloud business monitors and endpoints such as information technology infrastructure.
XDR uses automated tools to gather network incident data, also called telemetry, to identify signals of malicious activity.
Sentinelone software takes action immediately to counter threats unlike the current 1-10-60 standard (one minute to detect 10 minutes to investigate 60 minutes to remediate) of Crowdstrike and other competitors, SentinelOne calls its approach the new gold standard.
A notable success was SentinelOne's performance in blocking the solarwinds large scale ransomware attack which compromised, among others, Microsoft Google and many government agencies one of the largest in history
SentinelOne's initial public offering took place on June 30, with shares priced at 35. And closed the first day of trading at $42.50. It has traded as high as $72.50. As of this writing it is trading at $64.
SentinelOne Quarterly Results
SentinelOne released second quarter FY 2022 results on September 8 (they operate on a Jan 2022 fiscal 2022 year end) Revenue and custormer growth were impressive but the company is not profitable.
Total revenue for the quarter was $45.8 million a 121% yoy increase. Annual recurring revenue grew 121% yoy to 20.7 million
Loss from operations on a non- Gaap baisis rose to $45 million vs $21 million loss a year ago.
Total revenue was $45.8 million in the second quarter, a 121% increase compared to $20.7 million for the same period of fiscal 2021. Annual recurring revenue grew 127% yoy and total customers grew 75% to 5,400.

Loss from operations: GAAP loss from operations was $67.2 million in the second quarter of fiscal year 2022 compared to $22.6 million for the same period of fiscal year 2021. Non-GAAP loss from operations was $45.0 million in the second quarter of fiscal year 2022, compared to $21.0 million for the same period of fiscal year 2021.

Here is guidance from the SentinelOne quarterly report
Stock performance
SentinelOne's initial public offering took place on June 30, with shares priced at 35. The SentinelOne IPO raised $1.2 billion, giving it ammunition for acquisitions that could expand its cybersecurity offerings.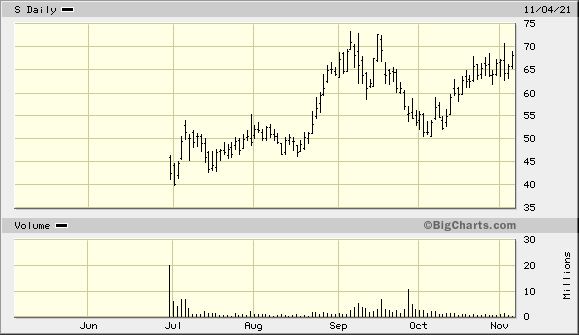 SentinelOne stock hit a record high 73.47 on Sept. 7, currently it is trading at $68
Valuation
SentinelOne is trading at a very high valuation based upon expectation of continued high growth from its current low base. Many analysts think SentinelOne has just barely touched the surface of their potential market. IBD cites Cowen analyst Shaul Eyal in a July initiation on SentinelOne stock said its IPO valuation was mainly tied to the endpoint market, not the bigger opportunity in XDR and ransomware.
Both SentinelOne and CrowdStrike serve as prime examples for the XDR/EDR markets as they are direct competitors in this space," he said. "We do not believe SentinelOne has fully baked in the potential of its targeted markets. SentinelOne's XDR data opportunity hasn't even scratched the surface yet as it wasn't included in the disclosed TAM (total addressable market) projection."
Crowdstrike is considered SentinelOne's chief competition and it already has far higher penetration in the large enterprise market. Sentinelone is valued at a price to sales (P/S) ratio of over 125 based on revenue of 137.5 mln. Crowdstrike carries a p/s of 55 on revenue of $1.14 bln. This June article from Haaretz/The Market casts a skeptical eye on SentinelOne's valuation compared to Crowdstrieke
Even in a highly valued sector SentinelOne has an extremely high valuation likely based on expectation that it is very early in reaching a huge market. Price to sales ratio is 122 compared to 54 for Crowdstrike.
Despite the high valuation analyst consensus is price target is 76 a bit more than 10% higher than current levels Out of 60 analysts covering the stock none rate it a sell and only 6 rate it as low as underweight.
Since the IPO S has significantly outperformed CRWD
01.
Clearly high expectations are built into the stock price any earnings disappointments will likely cause a significant fall in the stock price.